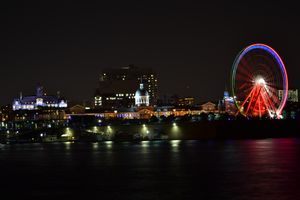 IN THE NEWS
MAY 12, 2023       NEW PIANO SINGLE: "OPALINE"
                        Hear my new solo piano track right here. Soon available on all streaming                           
                                    sites.
OCTOBER 11, 2022  IT'S THE 5-YEAR ANNIVERSARY OF MY FIRST SOLO PIANO ALBUM, "L'INÉVITABLE"
                                        To celebrate with you, we offer the 2021 remaster edition  for FREE!!!. Download your                    
                                        favorite songs or even the entire album in audiophile 24-bit quality. Enjoy and share the news!
FEBRUARY 4, 2022    "REDSHIFT IN 1983: FROM DREAM TO DECEPTION" on aWc's blog
                                         "DARK EVIDENCE", recorded live at Fouf. Électriques, Montréal, 1983 (scroll down to player)
                                  NEW UNRELEASED REDSHIFT PICTURES!
MAY 1st, 2021    NEW, REMASTERED VERSION OF "L'INÉVITABLE" NOW AVAILABLE!
A new version of the first solo piano album is now available for download, and features sound quality on par with "la falaise", as well as new takes for several songs! FREE for all original purchasers of the 2017 version!. 
MACH 11, 2021    ANTOINE CARON ON SOLOPIANO.COM
Discover this excellent site created and managed by Matthew Mayer. Very honoured to have my Page approved!
FEBRUARY 22, 2021     "LA FALAISE" ON STREAMING SITES AND ONLINE STORES 
SPOTIFY     TIDAL     DEEZER      APPLE MUSIC     AMAZON
FEBRUARY 18, 2021    NEW ALBUM, "LA FALAISE" IS NOW AVAILABLE!!!
Listen to excerpts of every track, buy the download, or order the CD+download on the STORE page.
FEBRUARY 9, 2021     TRAILERS FOR THE RELEASE OF THE NEW ALBUM
See the two videos promoting "la falaise", the new piano album that will be available in two weeks on this site and all major streaming sites! Also, read aWc's new blog entry: "la falaise, top to bottom..."
DECEMBER 8, 2020  ADDED: " '80sNEW WAVE AND ELECTRONICA", and "aWc's SYNTH STUFF" 
The MUSIC page  now features 3 sub-pages with tons of new content!
DECEMBER 5, 2020  ECLUSIVE: TWO CUTS FROM THE NEW ALBUM
The new solo piano album will be released in a few weeks. Here are a couple of excerpts,  "Laurie" and "sombre".
JANUARY 15, 2020 NEW SOLO PIANO ALBUM IN THE MAKING
New excerpts upcoming on the Music Page
NOVEMBER 20, 2019   ROSANNE TOM (aka rOz) WINS THIRD PRIZE AT PIANOTEQ ANNUAL VIDEO CONTEST
My significant other was the pianist this year, playing Lulli, as I sat in the producer seat . Here is the video
MAI 25, 2019    SWEET MEMORY: REDSHIFT LIVE AT CLUB SODA, MONTRÉAL 1984
RedShift plays Joy Division's iconic "Transmission"
JANUARY 25, 2019    THE RETURN OF aWc and NEW BLOG ENTRY
NOVEMBER 20, 2018   PIANOTEQ ANNUAL VIDEO CONTEST
Pianoteq is musical instrument modelization software made by French company Modaart. It can recreate extremely good renditions of instruments such as acoustic and electric pianos, harp, vibes, etc. I have become a fan and started using their grand piano models to render my new piano tunes. Each year they organize a video contest to showcase their product. Here is a link to my participation to this year event, based on my tune Allegro (pour une fin d'hiver).
OCTOBER 9, 2018  NEW PIANO TUNES, FREE DOWNLOAD!
This fall, every Friday, a new solo piano tune by Antoine will be released. Just click on the "music" tab and pick the wav or mp3 format. Only on this site and for a limited time. Enjoy!
MAY 3, 2018    "L'INÉVITABLE? LÉVITER" NOW DISTRIBUTED BY DISTROKID 
A condensed version of the album (14 tracks) is now available on Spotify, Tidal, Deezer, Amazon, Apple Music, iTunes Store, iHeart, with many more to come. Distribution is handled by the fast-growing  DistroKid
JANUARY 2018   "L'INÉVITABLE..." BROADCAST ON RADIO-CLASSIQUE! 
The Radio-Classique FM stations of Montréal (99.5) and Québec (92.7) have chosen "Au Piano de Maman" for broadcast on rotation from mid-January. It was featured on "La Plage Musicale", hosted by Marie-Eve Lamonde on Saturday January 27, followed by many appearances in February, March and April.
photo credit: ROSANNE TOM