In 1982, I formed the band RedShift with the help of Jean-Robert Bisaillon (keyboards, vocals),  Daniel Jobin (electronic percussion) and Ian Stephens (lyrics, lead vocals). After our first few shows (notably at Zoobar, which later became the famous Foufounes Électriques), Mary-Ellen Pitts joined us as co-lead singer. So we were an all-electronic band, no guitars or acoustic drums, with influences ranging from The Doors to Joy Division and a hint of light craziness à la B52's. The group progressed quite fast and gathered good initial impressions from audience and media. 
In the Spring of 1983, we booked our first recording session at Multisons, a well-rated 16-track studio on Beaubien St. We recorded 5 tunes over 3 days after renting and programming an Oberheim DMX digital drum machine to create a stronger, more rock-like rhythm sound (our own beat box, a Roland TR-606, always sounded like a toy to me, although it eventually became legend alongside its companion, the ultra famous TB-303 bass line. Both now resell for exorbitant prices, but that is another story…). 
Here we are with a "demo" that sounds pretty good. It goes around and tunes are broadcast on specialty shows from CHOM-FM and CBC. Atypical to say the least , it features three different lead singers over five cuts!  Stylistically, it's all over the map, from the typical new wave of "Abandon" (although featuring a solo in the punk/new wave era was anathema) to the raunchy "Underflesh", and the quasi FM ballad sound of "Miscellaneous dreaming"! I plead guilty on all counts for this mish-mash, having insisted the whole time for a wide diversity of material, probably a reflection of my own unbridled eclecticism. Were we going to succeed in scoring a record deal with this demo?…more to come below…but first this: 
Interlude: the St-Jean Baptiste show!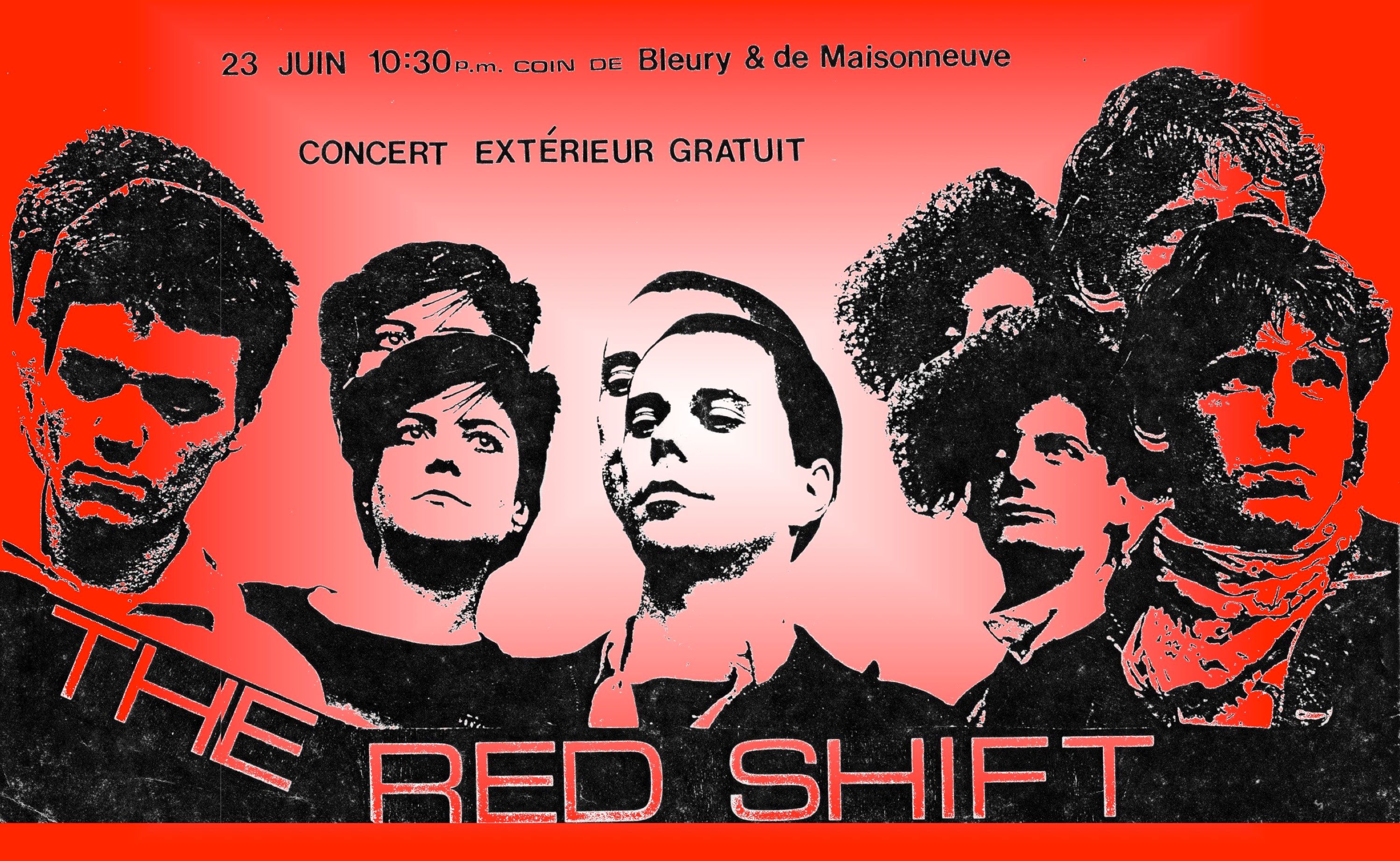 Thanks to J-R's contacts, we were booked for a free outdoor concert on June 23, during Montréal's St-Jean Baptiste festivities. The scene was erected on a vacant lot, corner of Bleury and de Maisonneuve. We were somewhat anxious to play for an audience that would be larger and less familiar with our material than what we were used to….not to mention singing in English at the Fête Nationale! We decided to use the Oberheim drum machine studio backing tracks (playing them on stage from a tape deck)  at the moment of performing these particular tunes… 
The afternoon of the concert, musicians and technicians were hard at work setting up while the sky was gradually clouding up. After sound check, it got really grey and I started panicking: if a rainstorm hits, the stage is not covered! I remembered that there was an army surplus store right next door on Bleury. I rushed there and purchased a tarp that I immediately started installing best as I could over my equipment (Roland JP-4 polysynth, Wurlitzer electric piano, mixer, Teac 4-track, etc…). Jean-Robert's Farfisa organ stood there…bare naked! Reluctantly, I left for my apartment, for a meal and shower, as the show was only scheduled for 10h30. From my kitchen in the East, I could see downtown covered with the darkest, most menacing clouds!. The wind picked up suddenly and I heard the windows rattling! A vision of apocalypse: most of what I owned was there, five kilometers away under a skimpy tarp… And then, as by miracle, the sky cleared up! However, I had no idea if it had been raining over there. I zoomed through the six metro stations and arrived on the site. Jean-Robert's keyboard stack had toppled! We tested it: it still worked! And my tarp had held on! People were pouring in, quite a large crowd. 
It was getting darker and show time was nearing, so I went to check my tape deck…just to realize in horror that some of the tape had spilled and was all tangled! I started to panic again…what are we gonna do? The more I twisted and untwisted the tape, the more tangled it looked. In desperation I scoped the crowd…there he was, my brother Hubert, the engineer! I stumbled down the stage and ran for him, grabbed him by the arm: "come over here, quick!..."  Calmly and patiently, Hubert started to untangle the tape. It seemed to last an eternity, but he finally did it… 
I remember little from the beginning of the show, but then, we played "Dark Evidence", our most spacy, dramatic tune, a bit Joy Division-esque. Our oversized shadows danced on the old building behind the stage, as waves of Jupiter-4 synth unfurled from the powerful sound system. It was magic. We didn't know it, but it would be the last time that song was performed. There is no recording of the St-Jean show, but here you can listen to an epic rendition of Dark Evidence taped at our Fouf concert. And then it happened…some drunk guys in the crowd from…let's say a rival band… started to yell insults at us, and yell and yell. They wouldn't stop. I was furious. I walked to Ian and said: "Come with me down there, we'll take care of them…" Fortunately, Ian talked me out of it and managed to calm me down. 
Nevertheless, an unforgettable show. I will most likely never play for such a large audience (that was overwhelmingly supportive). What about the tape spill? Was it the wind or… someone? In the end, I'm glad that there is no recording…of those jerks. 
End of interlude. 
Thanks to J-R's legwork, bingo! An independent producer accepts to release the "demo" as is, in the form of a vinyl album (no CD yet, back in the day). In October '83, we sign the contract, complete with detailed publishing agreements. We are on our little cloud for a while. We play a gig at Collège Lionel-Groulx (well paid, well produced) that was very good, then club Le Beat. That one…something's wrong…we're all mixed up! Then, boom, Mary leaves the band, it's a mutual agreement (if memory serves). Ian needs to occupy all of stage front. Time passes, the record is still not out. It will never come out. The "producer" is arrested on drug trafficking charges. We're stunned, but mostly bitterly disappointed. We got screwed good. 
We lick our wounds and refocus our sound: In 1984, RedShift will hit harder, be more radical and even less pop if it ever was. As Pierre Flynn's song says: "Freedom, no compromise". Stay tuned to this blog for the next episode! 
In the meantime, I can announce that RedShift music will be featured  on two vinyl albums in 2022. Better late than never. Keep watching this space, more details to come!